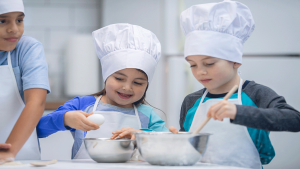 Each Culinary Camp will offer activities that stimulate, foster, and promote interest in the
culinary arts.
Participants will learn about cooking techniques, explore the food service industry, and engage in a fun, creative outlet while developing leadership and cooperation skills.
Led by industry trained chefs and certified teachers, participants will learn how to prepare a variety of dishes, pair foods, and explore what foods promote healthy living. Basic vocabulary, following a recipe, and utilizing safe cooking methods will be highlighted.
Camp participants will receive an apron, hat, rubber spatula, and cookbook.
DATES:
July 1 – July 12, 2019
LOCATION:
Land O' Lakes High School
20325 Gator Lane
Land O' Lakes, FL 34638